Dear readers,
Another week, another new project! My Digital Passport has taken off with a bang, and we are delighted to witness the excitement in our students as they embark on their digital literacy journey. For some of them, this is their very first experience with computers, and the sheer excitement in their eyes is contagious. As our educators guide them through the basics of navigating Microsoft Office, it's a reminder that the ability to use computers and software proficiently is not just a skill; it's a necessity in today's world so tightly interwoven with technology. I must say I've learnt a thing or two about pivot tables that I wasn't aware of before.
Our digital transformation doesn't end with our students. I'd like to take a moment to express our gratitude to the team at Code94 for their incredible volunteer work on our website. Thanks to their dedication and expertise, our website has undergone a remarkable transformation. It's now a beautiful, user-friendly platform that better represents who we are and what we do. You can check it out for yourself by following this link: https://avinyafoundation.org/
We also had the pleasure of hearing from one of our students about their first two weeks at Avinya.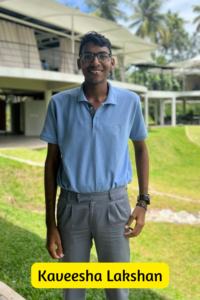 Kaveesha Lakshan, a 19-year-old student from the Dolphins class, shared his thoughts with us. Kaveesha has a passion for video streaming, and his journey to Avinya Academy was driven by a desire to improve his English and digital literacy skills to pursue his true calling.
Kaveesha's experience at Avinya has been nothing short of "exciting" as he says. He describes it as a contrast to his previous schooling experience, particularly when it comes to our educators' teaching style and the teamwork among classmates. Among his most memorable moments at Avinya so far, Kaveesha highlights the homeroom time. It's during this period that he got the chance to bond with his new classmates and engage in fun activities like 'dog and the bone.' Kaveesha is enthusiastic to see what lies ahead at Avinya for him and we're equally excited to continue this journey with him and our other students while getting a glimpse into their perspective. We appreciate him sharing his thoughts and experiences with us!
Before we sign off for the week, Geeth has some lovely thoughts to share with everyone about the IT vocation and his experience with the students. 
– Sinalie 
Once upon a time, in the lush bamboo forests of the Far East, there lived a tiny dragon named Tiny Dragon and a big, wise panda named Big Panda. One day, as they sat together under the swaying bamboo, Big Panda turned to Tiny Dragon and asked a question that had puzzled minds for ages: "Tiny Dragon, my dear friend, what do you think is more important – the journey or the destination?"
Tiny Dragon, known for his wisdom beyond his size, looked up at the endless sky, then back at Big Panda, and with a sparkle in his eyes, he replied, "The company."
-A zen short story-
Gather 'round, my friends, for a story that delves into the realms of trickery, humor, and the uncharted territories of unconventional learning. We've all encountered those spirited individuals, both young and old, who defy traditional educational norms. Society may have let them down, but I'm here to unveil a well-guarded secret weapon from my arsenal — the art of LOVE and SURVIVING.
My adventure at Avinya Academy began on August 11, 2023, when I joined as an educator, entrusted with the responsibility of guiding 27 aspiring students on their path to becoming full-stack developers. These students, the cream of the first batch who chose the IT pathway, have found a second chance at education in Avinya Academy, a sanctuary for those who faced setbacks in traditional Sri Lankan education. From the very start, I've felt like a part of the Avinya family. The daily camaraderie and light-hearted banter with my colleagues and travel buddies, Sanduni, Nalaka, and Dilani, have not only made the daily commute enjoyable but also made me feel right at home. A special shoutout goes to Anju, our director, who has patiently endured my daily jokes with a smile.
Inside the classroom, something magical has been happening. The bond I share with my students is extraordinary; it feels like we are friends more than anything else.They've excelled in Python basics, HTML, CSS, JavaScript, XML, XSLT, and more. Currently, we're excited about the launch of the mentorship program and the positive responses we're receiving from potential mentors. Additionally, we will soon start  discussions with IT companies for future internships, creating exciting opportunities for our students after they complete their University of Moratuwa full-stack development course plus their intensive Avinya IT foundation course.
And, speaking of exciting developments, our IT enthusiasts are eagerly looking forward to the upcoming Telecommunication Foundation Certificate Course offered by Dialog, starting from October 4th. It's an opportunity that has set their hearts ablaze with anticipation.
But it's not all about the classroom; we believe in balancing learning with fun. This week, we unleashed our creative spirits with a game of Pictionary-IT Version. Laughter filled the room as our students tried to guess programming concepts, IT keywords, and more. These cool classroom activities are a testament to the vibrant, nurturing environment we've cultivated at Avinya Academy.

The journey with our students has taught me an invaluable lesson – that with determination and relentless effort, anything is possible. Their unwavering resilience, their unwavering determination, and their unwavering love for learning have become my daily inspiration. They are the reason why I come to work every day with a smile on my face.
In the world of coding, where they master languages like Python, HTML, CSS, JavaScript, and more, it's clear that it's the LOVE our students have for each other and for us that will be their guiding light towards success. I have no doubt that their future holds extraordinary accomplishments.
– Geeth