Greetings dear readers,
… and Olá October! We've rolled into another month with a bang. As the calendar pages turn we find ourselves once again at the threshold of exciting possibilities. Our educator Roshanie will update you on the festivities and events that have marked our entry into this month.
 We embarked on yet another exciting week of adventure and learning, and this time, it was the radiant spirit of Children's Day that filled the air. The celebrations began with a mini carnival right in the heart of our classrooms, where the young minds unleashed their creativity and competitive spirit. The games were as diverse as the children themselves. With every challenge, students revelled in the thrill of competition, highlighting their skills and creativity. To add to their delight, Ilma bought all of us a delightful treat, like a sweet cherry on top of a fantastic day. 
 After a three week long immersion in a tech-savvy project, the students have now transitioned to a different kind of adventure: "Face your Face." This new journey is a soothing balm for their souls, a welcome change from the intense tech world. It encouraged them to take a step back and delve deep into their own emotions. With "Face your Face," the students embarked on a journey of self-discovery. They delved deep into the world of emotions, seeking to understand the subtleties of joy, sorrow, anger, and everything in between.  
The project encouraged them to not only identify their own emotions but also to learn how to navigate through them. I am elated to be a project lead for the first time and lead this journey that promises students a time for self-reflection, a pause to truly comprehend the intricacies of the heart. 
Our students were also privileged to participate in a guest lecture by Sri Lanka Sumithrayo, focusing on the importance of mental health awareness. In this safe and supportive environment, our young scholars bravely shared firsthand experiences, shedding light on how they had coped with various emotional challenges. 
Through these stories, they grasped the vital lesson of not succumbing to impulsive actions in the face of powerful emotions. They learned that every feeling, no matter how intense, can be managed with patience and understanding. As they absorbed these valuable insights, I strongly believe that their growth as empathetic individuals would continue to flourish. 
– Roshanie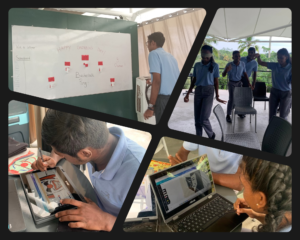 This week, we also had the pleasure of hosting Dialog for a special opening event. They were here just yesterday to introduce their exciting 3-month foundation program in Telecommunication Technician which was yet another exciting opportunity for our IT vocational students to experience the diverse nature of their chosen field and dip their toes into experimenting with another area in addition to the UOM full stack development course they have been pursuing.
Dialog conducted several interactive sessions that captivated our students' (and our) attention. Anju was allegedly spotted lurking around trying to headhunt one of the trainers 😀 They provided a comprehensive and thorough explanation of the Telecommunication Technician course, shedding light on the exciting opportunities and challenges that lie ahead. 
Our students were not only impressed by the course content but also inspired by the real-world insights shared by the Dialog team. With the event behind us, all of our students are now eagerly anticipating the start of the Telecommunication Technician program, scheduled to kick off next week. It's safe to say that the future is looking bright for our aspiring tech gurus.
Special thanks to Geeth for setting up and guiding us through the event as well as to the entire Dialog team who provided all of us with a day filled with learning, interaction, and enthusiasm!
In addition to this new venture, we are actively working on another crucial aspect of our IT students' educational journey – mentorship. We're in the final stages of assigning mentors to our IT students, carefully matching them with individuals who possess specialized knowledge in certain areas and a passion for guiding the next generation of IT professionals. Soon, our students will embark on this new journey, where they will have the opportunity to learn from the experiences and wisdom of those who have walked the path before them.
As always, here at Avinya, we are on the cusp of yet another learning adventure. Until next week!
– Sinalie